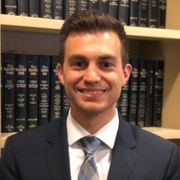 Donald P. Casadonte, Jr., Esq.
Donald Casadonte joined Turek Roth Grossman LLP as an Associate Attorney in 2021, where he represents businesses, property owners, co-op and condominium boards, landlords, tenants, and developers in a wide variety of commercial litigation and real estate matters.
Prior to joining Turek Roth Grossman LLP, Donald was employed as an Associate Attorney at Collins Gann McCloskey & Barry PLLC, where he concentrated his practice in the areas of criminal defense and personal injury. Donald focused on both state and federal criminal cases, as well as complex personal injury cases. In addition, he also worked in the area of criminal record sealing.
Prior to joining Collins Gann McCloskey & Barry, Donald spent more than three years as an Assistant District Attorney at the Nassau County District Attorney's Office, where he had extensive experience as lead counsel litigating successful jury and bench trials to verdict. While serving as a Domestic Violence and Sex Crimes Prosecutor, he worked with victims and other law enforcement agencies to investigate and prosecute a variety of serious crimes.
Donald received his B.S. from SUNY Geneseo and his J.D. from the St. John's University School of Law.